Looking Back at Pordenone 2022
The 42nd annual Pordenone Silent Film Festival wrapped last month. I was fortunate to catch most of the features screened virtually. (You can read my fest preview HERE.) As per usual, the event introduced me to a slate of rarely seen international silent fare, which is always a joy to behold. Below is a short recap of the features I watched and the one German short that I am now obsessed with.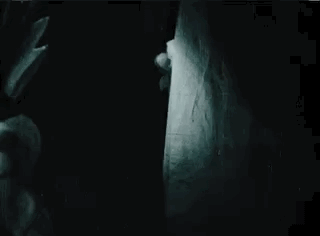 Yes, my favorite selection this year was an animated German short produced 98 years ago.
Die große Liebe einer kleinen Tänzerin/The Great Love of a Little Dancer (Germany, 1924)
Please put this orphan animated short on your watchlist right now. I actually re-watched it a few times because it fascinated me so. (And because I wanted to capture all the clips and gifs.) Basically, the plot goes like this: a ballerina working in a circus rejects the advances of a magician. So, he puts a curse on her: she will turn the head of every man who graces her presence, her lion tamer lover included. The puppetry, production design, plot, title cards, THE MAGICIAN'S FACE! – it's all so deliciously creative and twisted for 1924, and I love it. This sort of surreal, oddball animation reminded me of the (very) crude animations I created in high school, just on a much more accomplished and devilish level.
​
​
Up in Mabel's Room (US, 1926)
This film played the last day of the fest while I was visiting friends in Vegas. I barely had time to watch it, but I'm glad I did, because it turned out to be my favorite feature of the festival.
Up in Mabel's Room hinges on a gigantic misunderstanding: Mabel (Marie Prevost) catches husband Garry (Harrison Ford, not that one obviously) buying lingerie. He won't tell her the recipient, so she divorces him. Of course, he intended the lingerie for her all along. She decides to win him back… and that's where the fun begins, which includes a perpetually lost/missing/planted piece of lingerie, a fake engagement, sabotage, and more.
Prevost was a comedy icon. I always knew she was funny, but this film allowed her to be alluring, flirty, and feisty, to boot. In fact, this whole movie was much more provocative than I anticipated – from the lingerie to the hilarious title cards to the suggestive hijinks the characters find themselves in. (The fest referred to this film as a "saucy bedroom farce," which is an apt descriptor.) The upbeat energy the proceedings brought – boosted by the jazzy score – made Up in Mabel's Room an uproarious delight to watch.
Brigitte Helm destroying everything with her eyes in Manolescu (1929).
Manolescu - Der König der Hochstapler/Manolescu - the Prince of Adventures (Germany, 1929)
1. Manolescu is Drama with a capital 'D.' 2. I could watch star Brigitte Helm all day long. Her mesmerizing intensity scorches and radiates off the screen, so much so that I feel like my heart raced every time she entered the frame!
The title character (Ivan Mozzhukhin) is a playboy who lives beyond his means. Solution: Win all the money in Monte Carlo, naturally. On route, he becomes acquainted with Cleo (Helm), a mysterious, sensual woman who apparently is on the run from her husband – and the law, we later find out. After he aggressively (read: horribly) seduces her, they part ways but run into each other again in Monte Carlo. He desperately wants her, so he turns to a life of crime and deception to provide the level of luxury she's used to. From there, various characters take on a number of guises, jealousies arise, and near murders take place. After being knocked out by Cleo's ex, Manolescu vows to turn his life around, convalescing in the mountains with a pretty nurse he falls for. Now Cleo turns the aggressor, hostilely coming after him and handing him over to the police in the end.
Manolescu is a haunting, heavy drama with powerful performances by all involved, especially the leads who at times exude a ferocious possessiveness that hinges on frightening. The evocative camera work stunned as well, capturing a truly exhilarating dream/nightmare sequence and many other shots, especially of Helm's facial expressions, that encapsulate the high stakes, hot-blooded tone of this picture.
​
​
Just Around the Corner (US, 1921)
The main draw here for me was writer/director Frances Marion, and I must say, I found her to be quite adept at helming such a sensitive story.
Just Around the Corner covers a lot of ground – overwork and horrible bosses, social and romantic pressure and power struggles, familial relationships and expectations – as two teenage siblings take on the world in New York City all while their ailing mother frets over their future and her daughter's new boyfriend. As you can see, the film tackled some heavy subjects, but Marion did an excellent job not letting those overwhelm the plot or performances. I will say some of it did infuriate me, though; mostly, I kept yelling at Essie (Sigrid Holmquist) to break up with her no-good boyfriend Joe (Eddie Phillips). When she finally did… well, that was a splendid moment, to say the least!
One of the many illustrative title cards from Yes or No (1920).
Yes or No (US, 1920)
First of all, respect to star Norma Talmadge, because before Yes or No began, a title card acknowledged that the film was produced in her own studio. I loved that.
Besides being a badass producer, Talmadge took double acting duties on this picture, playing a poor woman (Minnie) and a rich woman (Margaret), both of whom contemplate leaving their husbands for others. Both women's husbands work long hours and pay their wives little attention. Minnie's man is trying to get ahead, but she wants to enjoy life now. Their boarder shows interest and gifts her things… but when she's about to give in to him, he tries to rape her. Luckily, her husband rescues and defends her. He goes on to create a washing machine and before long, they're living a comfortable life. Meanwhile, slick Paul (Lowell Sherman) has time for Margaret, prompting her to leave her husband… who dies upon hearing the news. Paul turns out to be a despicable cad who doesn't want a widow – he wants what he can't have only – driving Margaret to suicide.
The moral here is the woman who shows confidence and patience in her partner wins, and tragedy befalls the one who gives in to temptation. Interestingly, there is a clear moment where Minnie looks like she's about to discard her hard-working husband, but the other guy turns out to be a predator. If he weren't, would she have gone? Questions, questions! The moral tone feels a little heavy handed at times, but it was fun to watch Talmadge, who possessed an incredibly contemporary look and style, take on two very different parts.
​
​
Profanazione (Italy, 1924-1926)
Another intense melodrama, Profanazione goes to some places that surprised me – and it did so in 66 minutes.
In the film, Giulia (Leda Gys)'s husband goes away, leaving her in the care of her brother, who steals money from the husband that he can't pay back. Giulia unsuccessfully tries to raise the money for its intended recipient, her husband's best friend, and feels the need to offer her body for the debt. Before she changes her mind, she's raped by the friend and becomes pregnant. The one time Giulia gives in to the friend's demands to see his daughter, both of them get into a car accident, revealing the secret love child. Now the husband tries to figure out which daughter is really his – no one will spill! – ignoring his wife in the process because he doesn't believe her story. All is almost thought lost until the brother returns to set it all straight.
Yes, all that happened in 66 minutes. Filled to the brim with dramatics, Profanazione certainly kept me on my toes, though I still felt some parts lagged, even with such a short runtime. Gys' reaction to the horrific goings on around her impressed me, but she was nowhere near the level of, say, someone like Brigitte Helm in the acting department. That said, I enjoyed watching her performance and was impressed by how the film handled such sensitive subjects.
Mady Christians in The Runaway Princess (1929).
The Runaway Princess/Priscillas Fahrt Ins Glück (Great Britain/Germany, 1929)
What does a princess do when she turns 21 and doesn't want the prince she's set to marry? In The Runaway Princess she does… just that.
This light comedy starred a vibrant Mady Christians as the princess trying to figure out how to live on her own and support herself – job and all! – while Paul Cavanagh falls for her and at the same time also tries to save her from forgers who are out to take advantage of her. There are a lot of hidden identities at play here, as well as some really funny moments and wonderful shots, including a greyhound race juxtaposed with some serious speed walking and many characters reacting straight to the camera. It gets a tad zany (and features a predictable twist), but I relished watching Christians and Cavanagh having a ball together.
A clip from Po Horách, Po Dolách (1930).
Po Horách, Po Dolách/Over Mountains, Over Valleys (Czechoslovakia, 1930)
I was very excited to be able to catch a rare glimpse of Slovak cinema from this time – a movie that screened at the very first Venice Film Festival 90 years ago, no less!
Po Horách, Po Dolách captured snippets of a way of life that was disappearing in 1930. Though its loose structure made it feel longer than it was, the film serves as a fascinating document, chronicling old traditions, dancing, games, embroidery, and so forth. So many of these customs would be completely lost if not for documentaries like this, which reminded me how powerful a tool film can be in documenting and preserving material for future generations.
​
​
Hans Kungl. Höghet Shinglar/Majestät Schneidet Bubiköpfe/His Majesty The Barber (Sweden/Germany, 1928)
I'm all for madcap comedies, and Hans Kungl veers into that terrain. Nicolo (Enrique Rivero), raised by his grandfather Andre (Hans Junkermann), doesn't know it, but he's the heir to the throne in his home country Tiranaien. Andre can get his grandson on the throne if a coup were to occur, which requires money. Astrid (Brita Appelgren), granddaughter of hair tonic queen Sophie (Karin Swanström), turns down a marriage proposal from a count she doesn't love; only love or a King will do. Nicolo and Astrid meet, and of course romantic complications ensue. Meanwhile, their grandparents plan their betrothal, with Sophie basically buying her granddaughter royalty. From there, the lovers run away from their royal obligations only to find the whole thing was a hoax – long ago, five babies from a Tiranaien orphanage were given crowns and now they're all being scammed! Turns out, Astrid didn't get royalty, but she got love.
There's a lot of plot packed into this film. I enjoyed the story, as wacky as it was, but I found it a little too meandering; I think the movie could have been paced better. That said, it was still a pleasure watching the countless comedic and romantic antics the characters get into.
A happy ending for the prince and princess in Sui Gradini Del Trono (1912)
Sui Gradini Del Trono/On the Steps of the Throne (Italy, 1912)
Chaos and confusion – that was my experience with this film. From what I recall of the story, a regent tries to split a prince and a princess up, because he wants the prince to marry his daughter to retain his power. He sends the prince to Paris, where he runs into a dancer who looks just like him! And there's a disappearing door! That's used to swap the prince for the (now) imposter who will take the prince's place to marry the regent's daughter. Of course, the ruse is eventually revealed and the prince and princess tie the knot at the last minute.
On the Steps of the Throne is an early Italian feature and it shows; it's definitely a little stiff and static in parts. For me, it really illustrated how far the medium progressed from the 1910s to the 1920s, when all the other features screening virtually were produced.
thanks for stopping by!
I See a Dark Theater is a website dedicated to classic movie-going—and loving—in the City of Angels. Whether it's coverage on screenings, special presentations, or Q&As around Los Angeles that you're looking for, or commentary on the wonderful and sometimes wacky world of classic cinema, you've come to the right place for a variety of pieces written with zeal, awe, and (occasionally) wit. Enjoy.
subscribe
search
connect